The 2018 F1 Calendar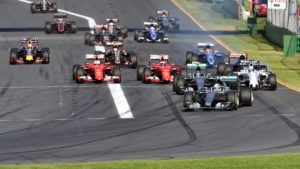 In a break from tradition, and a clear signal of stability from the new owners, a complete calendar has been released for the 2018 season a good few months prior to when we're used to. Gone are the political games of adding or removing countries in draft calendars to get deals done. Chase Carey says this is the calendar and this is how we'll race next year.
The big changes are the loss of Malaysia as announced earlier in the season, The addition of France & Germany taking the race tally back upto 21 races. The Russian GP moves to later in the season with baku making a much ealier appearance as part of the block of 4 'flyaway' races at the start of the season.
Another big talking point is the technically tricky triple header of FRANCE-AUSTRIA-GREAT BRITAIN, which sounds like a logistical nightmare. Getting from Austria to Britain last year in a week was tough, but this does seem slightly odd, Surely it would have made sense to switch Austria & France to make the journey more coherent? Just a thought..
The 2018 F1 Calendar:
March 25 Melbourne, Australia
April 8 Shanghai, China
April 15 Sakhir, Bahrain
April 29 Baku, Azerbaijan
May 13 Barcelona, Spain
May 27 Monaco
June 10 Montreal, Canada
June 24 Paul Ricard, France
July 1 Red Bull Ring, Austria
July 8 Silverstone, Great Britain
July 22 Hockenheim, Germany
July 29 Hungaroring, Hungary
August 26 Spa, Belgium
September 2 Monza, Italy
September 16 Singapore
September 30 Sochi, Russia
October 7 Suzuka, Japan
October 21 Austin, USA
October 28 Mexico City, Mexico
November 11 Interlagos, Brazil
November 25 Yas Marina, Abu Dhabi