Rosberg Rules – 2014 Australian Grand Prix – Race Report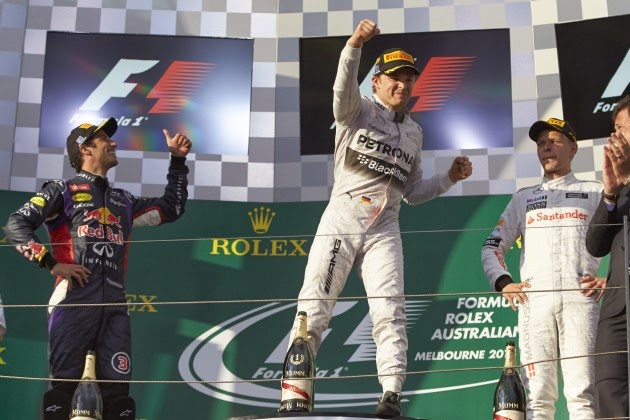 Nico Rosberg won the Australian GP fulfilling all of the expectations and speculation from pre-season, although it wasn't all plain sailing with Brit Lewis Hamilton retiring early in the race as his V6 became a V5!
Taking the second spot on the podium was the widest smile in the business, with Daniel Ricciardo collecting the trophy at his home race. However he was to be later disqualified for breaking a rule regarding the fuel-flow rate.
Magnussen made a stunning debut for McLaren, finishing third but later promoted to second after Ricciardo's disqualification. This was certainly a Hamilton-esque debut race for the Dane. He also beat his team mate Jenson Button who is now classified as finishing third but didn't get the privilege of standing on the podium.
Ferrari's Alonso finished fourth and Williams driver Bottas ha
d an eye catching weekend finishing a fantastic fifth and scoring more points in the first race than Williams managed in the whole of last year. The Finn had an incident-packed race in which he hit the wall and damaged his right-rear wheel, triggering a safety car. He fell back to 16th but managed to fight his way back through the field in a truly inspired drive..
Nico Hulkenberg was fourth in the early stage of the race after a great start from seventh on the grid, passing Alonso's Ferrari on the opening lap. But he slipped back to finish sixth ahead of Kimi Raikkonen.
Toro Rosso had a great race as Vergne and Kvyat finished in eighth and ninth places. The young Russian rookie replaces Sebastian Vettel as the youngest points scorer in F1 history.
The only one of the 'new teams' to have a driver finish the race was Marussia with Max Chilton, although that was not itself without dramas. Both Marussia cars has faliures on the grid leading to a second formation lap. Both had to start from the Pitlane. After that initial issue Chilton ran to the finish with no issues, whilst Bianchi's issues took a little longer to fix he did manage to run until the end but was 6 laps down and not classified.
Hamilton had an engine issue from the very start of the race, and dropped behind team-mate Rosberg and Australian Ricciardo by the first corner. Withing the first lap he was down to fifth and was told to 'box' and retire the car to preserve the engine soon afterwards. Vettel also had engine problems and retired on lap 5 after much frustration and calls of 'no power' on the radio.
Kobayashi also had a very short race after a MGU (Motor Generator Unit) faliure causing his rear brakes to fail in the first corner, hitting Raikkonen before taking out Felipe Massa's Williams.
Both Lotus cars failed to finish although completed a lot more laps than many expected. Both cars failed due to issues relating to the power units.
As F1's brave new dawn started, eight cars failed to finish, which is far greater than anyone predicted, The racing was good and there were some great overtaking moves. One wonders of course what would have happened if Hamilton had not had his issues and the two Williams would have had a better qualifying, Then we'd have had a mega race on our hands.
Results
01 Nico Rosberg Mercedes 1h32m58.710
02 Daniel Ricciardo Red Bull +24.525
03 Kevin Magnussen McLaren +26.777
04 Jenson Button McLaren +30.027
05 Fernando Alonso Ferrari 35.284
06 Valtteri Bottas Williams +47.639
07 Nico Hulkenberg Force India +50.718
08 Kimi Raikkonen Ferrari +57.675
09 Jean-Eric Vergne Toro Rosso +1:00.441
10 Daniil Kvyat Toro Rosso +1:03.585
11 Sergio Perez Force India +1:25.916
12 Adrian Sutil Sauber +1 lap
13 Esteban Gutierrez Sauber +1 lap
14 Max Chilton Marussia +2 laps
15 Jules Bianchi Marussia +8 laps
Did Not Finish
Romain Grosjean Lotus 43 laps
Pastor Maldonado Lotus 29 laps
Marcus Ericsson Caterham 27 laps
Sebastian Vettel Red Bull 3 laps
Lewis Hamilton Mercedes 2 laps
Kamui Kobayashi Caterham 0 laps
Felipe Massa Williams 0 laps