Rosberg / Hamilton / Mercedes – What next?
So the dust has settled on the eventful Belgian Grand Prix in which a moment of madness cost Mercedes F1 team 25 points and Lewis Hamilton any chance of scoring points in that event.
It is clear in my mind that Nico did not set out on Sunday with the aim of hitting Lewis, It wasn't pre-mediated or planned. He went for an overtaking opportunity and then refused to back out of an ever closing gap to prove that he wont be spooked by Lewis during wheel to wheel racing. That split second decision caused the accident.
The incident however is in reality no different to what we've seen all through the field, or look back to Hamilton and Massa's famous scrapes in 2011.
The mystifying thing however is why the stewards didn't act. Had it been a Grosjean or Maldonado I think there would have been a drive through penalty for 'causing an avoidable collision'. There should have been some kind of penalty for that because good clean racing is what we're after!
After the on track exploits we had lewis claiming that it was 'on purpose' which appears to be a mis-quote of Nico saying, "I was going for the gap but wasn't going to back and look weak or like I'm a push-over" and Nico has released a statement admitting it wasn't the best day on track and was
an unfortunate incident. Most of the press seem to want to pull these waring fractions together to make headlines telling tales of deliberate cheating etc but it really isnt like that.
This situation requires the team to be strong, sit both drivers down and have a very serious word. We've been applauding the team all year for letting the drivers race and giving us a show, long may it continue but the golden rule has to be, dont hit your team mate. No real punishments need to be given and certainly some of the ideas being banded around some of the other 'more connected' F1 news sites are utter rubbish. Mercedes are not going to punish Nico for racing, they'll tell him its unacceptable and at worst give him a small fine for losing the team points that day.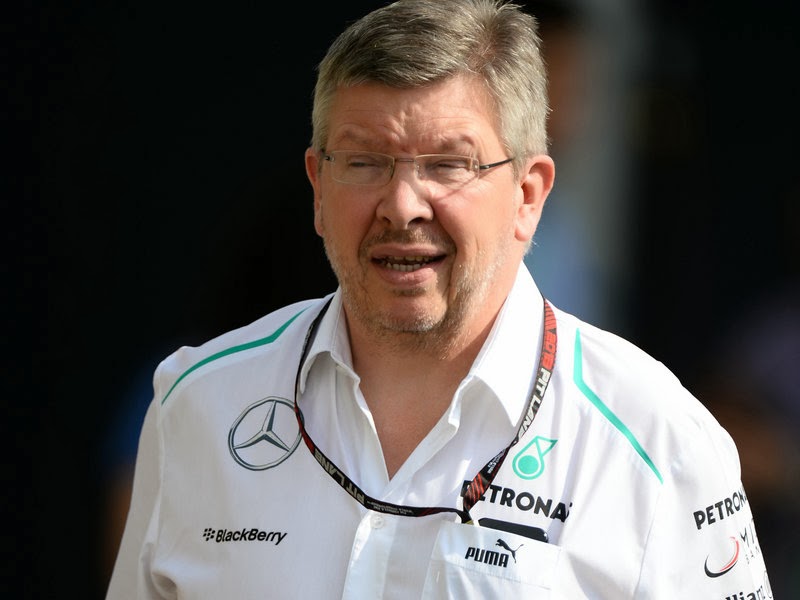 You can't help but feel that with Toto Wolff doing his best angry terminator impression on Sunday that the team is really missing the strong leader it had in Ross Brawn, someone with a real authority. Could Mercedes be in the situation where too many chiefs make the situation so muddy that no one really knows who the boss is. Could this indecision / failure to work cohesively in the end cost the team the drivers title? Because Red Bull are improving and Daniel Ricciardo can win this title with a bonus double points win in the last race… That would be a disaster for Brackley.. And Stuttgart