Money Talking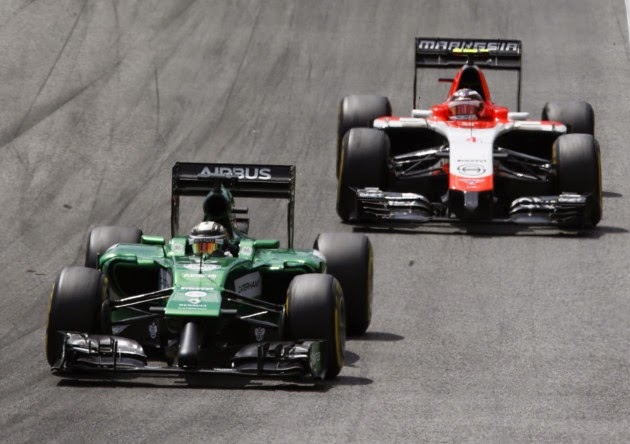 Formula One, the pinnacle of motorsport, the example to all that follow of how it should be done, however F1 is doing a great job of making itself look rather foolish with Caterham's fate now at the hands of administrators and Marussia who cannot afford to go to the USGP. This leaves the grid at 18 cars for the first time since 2005 when BAR had a two race ban for using fuel as ballast.
Looking slightly further up the grid too, Sauber's troubles are well publicised, as are Lotus's struggles which left Kimi without wages last year and the floodgates of talent leaving Enstone.
But of course all of this could have been avoided. When the "new teams" signed up to join F1 they signed up to Max Mosley's budget cap idea. An idea that would create a 2 tier formula. Tier one, spend as much as you like and stick to the 'stricter' rules. Tier two, spend only $40m and you get unlimited use of your windtunnel and can bring as many upgrades as you like etc.
The teams cried that this was unfair and decided that a breakaway series would be the answer, however this was soon averted by negotiations by Mr Ecclestone who instead got the teams to agree to a resource restriction agreement (RRA) that would start lightly and slowly ramp up to provide real cost savings. This was however NOT in the rules and was a gentleman's agreement.By then the new teams were way to committed to be able to change their plans and had to just do their best under these new circumstances.
Since those days the 'new teams' have been unable to make any real inroads into the rest of the grid and have had lowly everyday struggles just to race around at the back of the grid, the fight to finish tenth in the Constructors World Championship was every bit as hard fought as the fight to win it.
Of course the RRA failed as teams decided it was pointless as not enforced and the whole thing unfolded. With teams spending a fortune just to try and keep up in the arms race that is F1. Queue the biggest changes of rules in the sports history in 2014 and the spending again had to ramp up, with engine costs on their own easily doubling for customer teams. It was clear smaller teams would struggle and thus here we are with two teams unsure if they will ever race again.
But think this, not just are the drivers not allowed to race next weekend (who have paid to be there), The team staff are unsure if they are going to get paid at the end of the month and their families planning for christmas potentially looking for new jobs. Its kids without Christmas presents etc etc etc.
Back in 2013 the World Motorsport Council enshrined in the regulations that a cost cap in Formula one would be discussed and put into action, again through discussions between the teams nothing was agreed or decided, in fact the topic of those meetings now involved un-freezing engines and this increasing development costs!
F1 needs to take a long hard look at itself, because a budget cap, correctly policed would allow the teams to race, perhaps even run at a profit (enticing more teams to join) It would allow teams to budget and forecast for their own futures and would mean that the spend per year of every team is the same. The team that uses that money the best each year will be world champions. Remember this, the fans in the grandstands do not care how many updates are on the cars every weekend, or if the engine tokens have been spent on upgrades, or even who makes the internal components. They care about seeing cars at their limit racing each other, Fans don't want to see 6 teams running three cars. Fans care about racing… and racing would be fairer for all under a budget cap. Simple really isn't it?
UPDATE: I've had a tweet from Tony Fernandes this evening who confirmed that it would have been a very different story for Caterham had a sensible budget cap been introduced.