2014 In Review – Part 2 – The Teams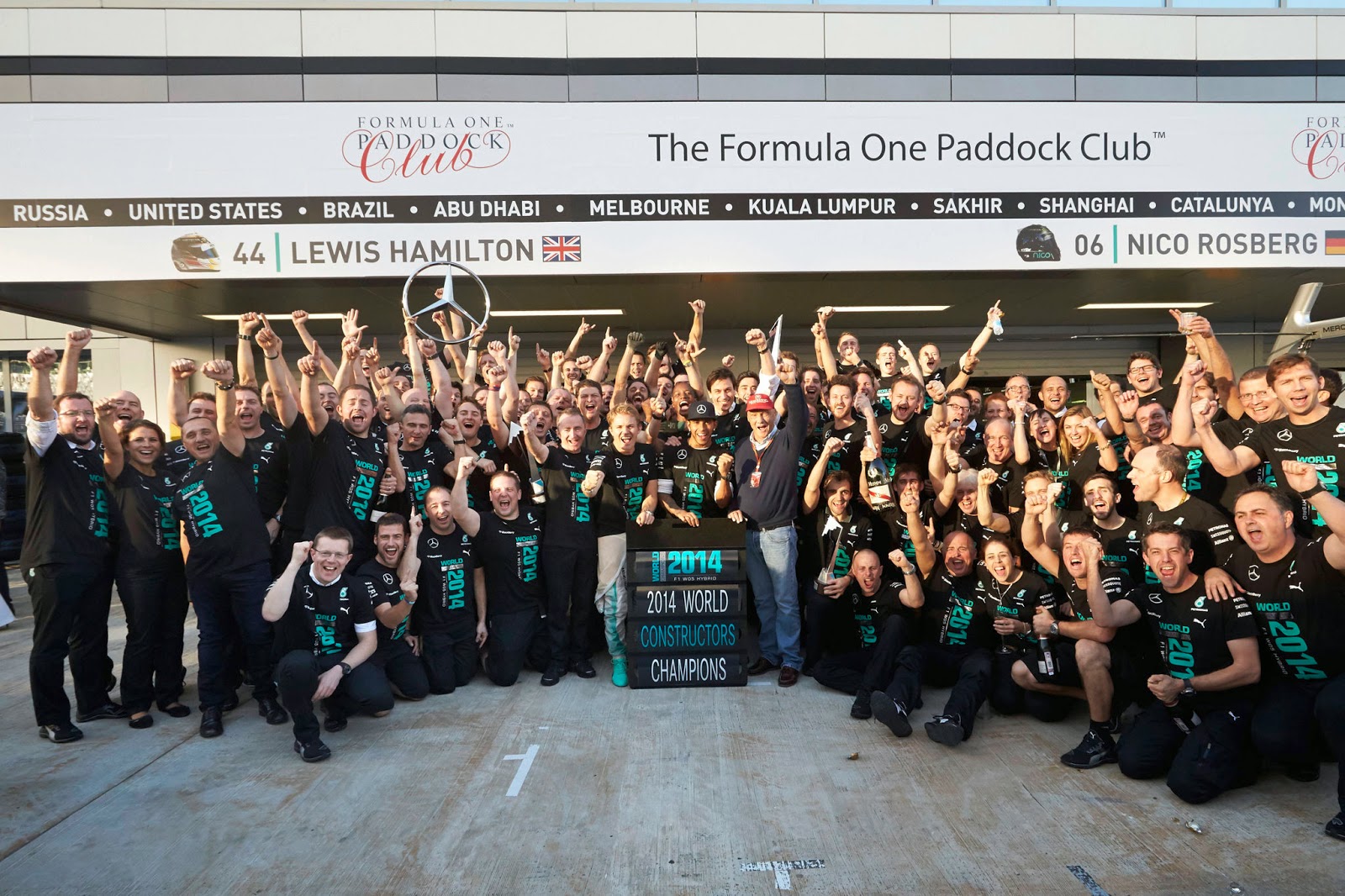 Part two of my season review focusses on the teams who have all bought a pretty amazing show to the table this year amidst showcasing some of the most exciting and complex technology to hit the motor vehicle industry with the new power unit regulations.
Each team is scored out of 10 G's (Gawne Points) which you'll all know about if you listen to my radio show 🙂
Mercedes AMG Petronas
What a year it's been for the brackley based team. Total domination in terms of pace, claiming 16 out of 19 victories and both world championships. What could have been a very dull year was transformed by the team's decision to allow the drivers to race each other which has provided some thrilling racing and some character defining moments. Only lost a point due to reliability which affected a few of the race results. A special mention goes to their social media efforts which have been truly engaging and has made fans feel included.
Team High: Clinching the constructors title in Russia – The first for Mercedes as a works team
Team Low: Spa, Belgian GP with Rosberg & Hamilton colliding and the subsequent fall out.
SCORE: 9G's out of 10
Red Bull Racing
Starting so far behind the pack with their Renault power unit, you'd be forgiven for never believing that the four time world champions would win a race this year, but it all came together and Ricciardo had a fantastic year being the only non-Mercedes winner with 3 wins to his name and completely dominating his champion team mate Vettel who really struggled with the new regulations. Thus with Newey stepping back and Vettel going to Ferrari it'll be very interesting to see if their improvement can continue onto next year. Some suspect decision making has crept in with the team knowingly acting against the advice of the FIA in the first grand prix which resulted in the exclusion of Daniel Ricciardo and the loss of a podium position. The DQ from qualifying in Abu Dhabi also hinted at a culture of pushing the rules too far.
Team High: Ricciardo's first victory in Canada.
Team Low: Rule bending in Australia and Abu Dhabi landing the team in trouble.
SCORE 7G's out of 10
Williams Martini Racing
By far, the most improved team of the year, with an inspired change to Mercedes power and a whole roster of new personnel including Pat Symonds and Rob Smedley, Claire Williams installed a new atmosphere into Grove based team which showed through increased confidence. The team also kept up the pace of development and continued the good results until the final race with a double podium. Valtteri Bottas is a clear future champion, his racecraft and pace are astounding. Felipe Massa showed glimpses of his 2008 spec self with some solid results and a great drive in the final race. All in all there isn't much to fault Williams on this year, although possibly could have snatched a win had they been more pro-active in some of the races.
Team High: Double podium in Abu Dhabi securing 3rd in the championship.
Team Low: Massa's accident in Canada
SCORE 8.5G's out of 10
Scuderia Ferrari
Another disastrous year in Maranello, with three people sitting in the team principal chair throughout the calendar year and a change in president. This year will need to be chalked down as a learning year because the car was poor as was the engine, and the personnel changes were unsettling at best. With Fernando Alonso seemingly desperate to find an exit and Raikkonen not hitting his stride in a difficult car there was even unhappiness within the superstar driver lineup. Fernando as always managed to put the car into places where it shouldn't have been but fourth place in the constructors championship is scant reward for a team that should be doing much better.
Team High: 2nd place in Hungary for Alonso
Team Low: Difficult to pick out of so many, but Raikkonen's struggles to show his potential.
SCORE 5G's out of 10
McLaren
Always set to be an interim year with the whole team looking forward to 2015 and the renewal of the dominant McLaren Honda partnership. 2014 was a tough year for the Woking team as the car didn't make the most of the class leading Mercedes power train and struggled to keep pace with the upper midfield teams. The team had a great double podium in Australia (after Ricciardo's DQ) but the team
results went downhill thereafter. Behind the scenes there were many changes and and a very unsettling environment with management buy out discussions and a new team principal finding his feet. There was also ongoing promises and missed deadlines regarding the title sponsor which still hasn't happened and the team kept us guessing until December for a driver announcement. Magnussen had a good year as a rookie and looks good provided he gets another chance somewhere as he wont be in the car in 2015. Jenson does however fully deserve his drive next year.
Team High: Big haul of points in Australia
Team Low: A PR own goal with not keeping promises regarding driver line-up and title sponsors
SCORE 5G's out of 10
Sahara Force India
A great year for the Silverstone based outfit. Consistently outscoring McLaren for most of the year and showing very very well against some much better funded outfits. The driver lineup is one of the best with Nico Hulkenberg and Sergio Perez pushing each other and scoring well all year. The team punched well above its weight and will realy hope to continue where they left off next year.
Team High: Perez's podium in Bahrain
Team Low: Double retirements in Hungary and USA
SCORE 8G'd out of 10
Scuderia Toro Rosso
This year was a testing year for the team as they were held back with their Renault power train. Daniil Kvyat was the star rookie and showed very well against Vergne although Vegne did have the better points haul at the end of the year. With Vettel moving on from the senior team and Kvyat's promotion, an all rookie lineup of Max Verstappen and Carlos Sainz jr will be an interesting sight next year.
Team High: Kvyat's 5th place on the grid in Russia
Team Low: 9 races with no points at all!
SCORE 4G's out of 10
Lotus
Started testing late and struggled to get the car to work. The car was simply a disaster. Amid worries and strife about the financial abilities of the team and the mass exodus of key staff it was always going to be tough. Maldonado's struggles were evident as was Grosjean's frustration at the poor car he's been given. A move to Mercedes power in '15 gives hope.
Team High: Getting off the grid in Australia
Team Low: Missing testing
SCORE 3G's out of 10
Marussia
A very bittersweet year for the team with the elation of being the first of the 'new teams' to score points in Monaco thanks the Jules Bianchi's stunning drive, Then the heartbreak of Bianchi's tragic accident and the subsequent collapse of the team. #ForzaJules
Team High: Points in Monaco
Team Low: Japan
SCORE 6G's out of 10
Sauber
Sauber's first pointless year. A very tough pill to swallow for the struggling swiss team. In fact the only time sauber was really being discussed this year was in discussion regarding cutting costs and the F1 financial 'crisis'. The car was difficult to drive and both drivers struggled with confidence in it. An all new lineup for 2015 provides a glimmer of hope..if the finances are there to compete.
Team High: Was there one? The car was improving at the end of the year…just!
Team Low: Scoring no points.
SCORE 2G's out of 10
Caterham
The car seemed to start life well as the only Renault powered car to get running early in testing, however that is really where the happiness ended! Kamui Kobayashi's return to F1 was sadly in very uncompetitive machinery. The car never looked like scoring points and the owner Tony Fernandes fell out of love with the money eating project. A failed sale later and the team was placed into administration, only returning for Abu Dhabi thanks to a crowdfunding initiative.
Team High: Kobayashi overtaking in the pit lane during winter testing giving a glimmer of hope
Team Low: Administration and the very public ownership spat.
SCORE 2G's out of 10