Monisha Kaltenborn Leaves Sauber F1.. Was She Pushed Or Did She Jump?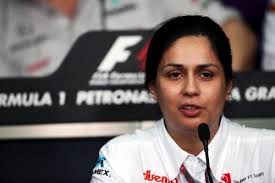 Today it has been revealed that Monisha Kaltenbourn has left Sauber F1. No official details have been released but the rumour mill is in full swing with various reports that she has fallen out with the directors of Longbow Finance – the team's new owners – regarding the direction of the team.
As no official word has been released it is probably too early to speculate on her successor however Colin Kolles seems to have a good relationship with the financiers and has F1 experience so would probably be favourite to get the first call.
This does mark a big moment in the teams' history with no link to Peter Sauber at the team for the first time in its history. (Peter Sauber was still a director during BMW ownership and he chose and worked alongside Kaltenbourn for many years)
Could this mean a re-brand and a completely new direction? Sauber have already ditched their long history with Ferrari to partner up with Honda next year, although with increasing speculation about Honda's relationship with McLaren, Sauber could yet find themselves as effectively a works Honda outfit.
The next few weeks and months at Hinwil will certainly be interesting