Sutil Penalised for Blocking in Qualifying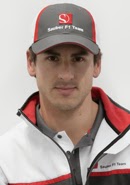 Adrian Sutil will start from the back of the grid in Bahrain tomorrow. He Qualified 18th but seemed to move across
the track blocking Grosjean and forcing the Frenchman to take avoiding action.
The Stewards said that the Sauber driver had "forced car 8 off the track between turns 13 and 14 in an unsafe manner" They imposed a 5 place grid penalty and put two penalty points onto his super license.
Grosjean said that it didn't cost him any time however as it was on his out lap and probably looked closer on TV than it actually is.