Spanish Grand Prix – Race results and Quotes
Lewis Hamilton won the Spanish Grand Prix, his fourth victory in a row and in doing so has taken the
championship lead from Nico Rosberg,
As Mercedes dominated, this race being the fourth successive Mercedes one-two, and fifth win in five races. Hamilton took the chequered flag only 0.6 of a second ahead of his team-mate. reflecting the close and intense battle between the drivers in a nail-biting finish.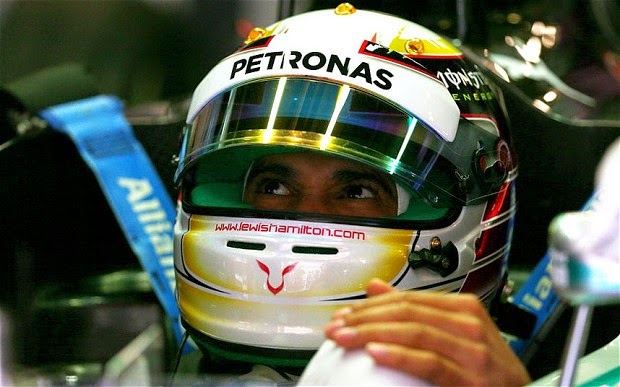 Hamilton, now has 100 points to Rosberg's 97 after his 26th career victory and leads the standings for the first time since 2012 when he was at McLaren. He said "A big thank you for my team, they have done an incredible job this year. The support here is the best I have ever had and my first win in Spain means everything to me. I was not upset, I was not fast enough today, Nico was quicker, I struggled with the balance and needed to rely on my engineers. I was moving my settings up and down and fortunately I was able to keep Nico behind."
Rosberg, said he was "a bit gutted" to finish second again and his subdued body language alongside Hamilton on the podium more than reflected that. He really believed tha with only one more lap he'd have passed his team mate. "I think one more lap and I could have given it a good go! Unfortunately that was it and I am bit gutted but still, second place, second in the championship and many more races to go. I will go to Monaco to go one better and try and repeat the win from last year."
Ricciardo completed the podium in a distant third place. This is his first official podium placing after having the 3rd place in Melbourne removed for a fuel irregularity. He said "We did not have the pace on Mercedes… it is really nice to be on the podium and I am sure I will get to keep it this time."
Sebastian Vettel, had a great drive from 15th on the grid to finish behind his team mate in 4th place. His weekend was terrible with missing out on practice, breaking down in qualifying and the grid penalty for a gearbox change but really drove an aggressive three-stopping race and is many pundit's driver of the day."Definitely, it was more fun than the last race when I had to let people by. All in all it was the maximum we could do. The start was bad, I lost a place but was able to get it back towards the end of the lap. I was stuck in the train and could not really feel how far we could go today but once I went on the hard tyre we could catch people a bit and we realised we had the pace. I think fourth was the best we could do today,"
Williams driver Valtteri Bottas took 5th place "I'm really happy for us – 10 points is very good. All the time we were in the points and today we got the maximum out of the tyre strategy and me from the car. It was a shame in the end that Vettel came so quickly but we got the points."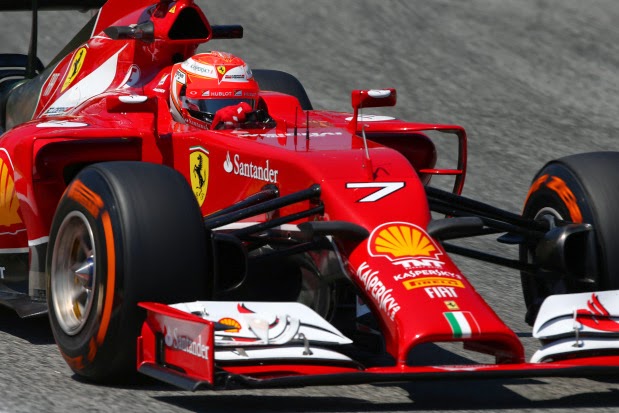 Ferrari's Fernando Alonso who won his home grand prix last year finished in 6th after being able to overtake his team mate late in the race. "It was tough," said the Spaniard. "Nothing surprised us, we had very low grip throughout the race. We struggled with the start and did not make any places on the first corner and we were stuck in traffic for 90% of the race. We are in a similar position unfortunately. The gap this year is amazing from the Mercedes, 40 seconds, so fair play and we need to raise our game because Mercedes are showing the potential of these cars,"
Alonso's team mate Raikkonen had a good day on Saturday out-qualifying his team mate but really seemed to struggle in the race. After the race he wasn't particularly talkative but refused to rule out suggestions that Alonso is being favoured in terms of strategy.
Romain Grosjean finished 8th behind the ferrari's handing Lotus their first points of the season. A great "It's been a tough battle for us to get points this season and that was certainly one of the hardest races I've contested in a long time. I did everything I could to drive around the power unit issues, which really made things difficult when battling the other cars. It's good for all the crew at the track and at Enstone to finally get a reward for all their hard work. There are still a lot of areas where we can improve and certainly the car wasn't as quick today as it was yesterday, with the different track conditions as well as the other issue. It's Mothers' Day in Switzerland so this one's for my mum!"
weekend for him after a very good qualifying performance on Saturday. He had this to say
Force India's Sergio Perez and Nico Hulkenberg finished in 9th and 10th respectively taking points again for both drivers.
11th and 12th were both Mclaren drivers. The team being the worst Mercedes runner and scoring no points again. There is clearly still an awful lot of work to do at Woking.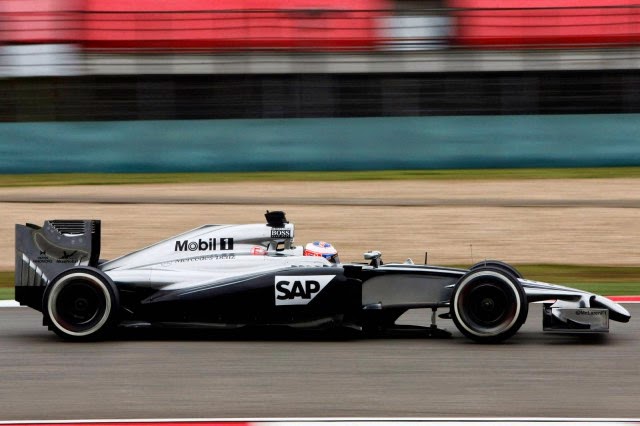 Felipe Massa struggled in his Williams going from 9th at the start to 13th at the finish.
Only two drivers retired, Toro Rosso's Jean-Eric Vergne and Caterham's Kamui Kobayashi, in a 66 lap race that testified to the surprising reliability of the cars in the new V6 hybrid turbo era.
Venezuelan Pastor Maldonado, who crashed in qualifying and started last for Lotus, was handed a five second stop/go penalty for causing a collision with Caterham's Marcus Ericsson. Maldonado had this to say
"We made a step forward in terms of pace with the car this weekend, it was much more competitive than 15th but the lack of top speed meant we weren't able to attack even if we had a quicker car than others around us. We need to keep working on that and to be faster on the straights. Today's result is a bit disappointing but my race had been already compromised by starting at the back the grid. At least we saw the chequered flag and collected more data for the team to keep on developing the car."
Mercedes executive director (technical) Paddy Lowe had this to say about his drivers great battle for supremacy today: "Lewis and Nico racing is exactly how we want it. Those guys were racing each other right to the ragged edge, each one trying to find the weakness of the other. Every single lap was a racing lap for both guys and I think the fact we saw 0.6 of a second between them on the 66th lap shows just how close it was throughout."
Spanish Grand Prix, Barcelona, Race, 66 Laps
1. Lewis Hamilton Mercedes 66 laps 1hr 41m 05.155s
2. Nico Rosberg Mercedes +00m 00.6s
3. Daniel Ricciardo Red Bull +00m 48.9s
4. Sebastian Vettel Red Bul +01m 16.5s
5. Valtteri Bottas Williams +01m 19.0s
6. Fernando Alonso Ferrari +01m 27.4s
7. Kimi Raikkonen Ferrari +1 lap
8. Romain Grosjean Lotus +1 lap
9. Sergio Perez Force India +1 lap
10. Nico Hulkenberg Force India +1 lap
11. Jenson Button McLaren +1 lap
12. Kevin Magnussen McLaren +1 lap
13. Felipe Massa Williams +1 lap
14. Daniil Kvyat Toro Rosso +1 lap
15. Pastor Maldonado Lotus +1 lap
16. Esteban Gutierrez Sauber +1 lap
17. Adrian Sutil Sauber +1 lap
18. Jules Bianchi Marussia +2 laps
19. Max Chilton Briton +2 laps
20. Marcus Ericsson Caterham +2 laps