Pre-Season Interview With Romain Grosjean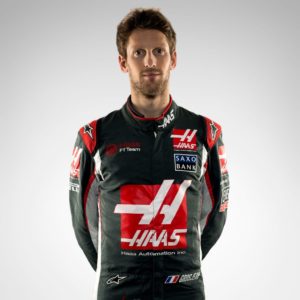 You participated in two unique and literally cool events this offseason – the Andros Trophy ice race at Alpe d'Huez in southeastern France, and a cross-country ski race, La Transjurassienne, in the French Jura Mountains. How did you do and can you describe each of those experiences?
"The Andros Trophy is something I do every other year or so. I love going there for the atmosphere, for the driving and for the fun sliding. I love the team I'm with, as well. They're very close friends, so it's always good to be there. There are two races per weekend. The first race didn't go so well. I think I finished seventh or eighth. I wasn't so pleased with that. The next day went much better because I won with the hat trick. I won the qualifying, the super pole and the final, so that was pretty good. There were no parties afterward as I had to drive back home to see my kids, but it was good to be on the podium at least one time in 2016.
"The cross-country ski race was a big challenge, but useful to see where my fitness level was. It also makes for a good goal throughout winter training. It's a tough, intense event. I knew completing it in three hours would be very optimistic, almost an unthinkable goal, and then four to five-and-a-half hours was more what we were aiming for. It was a very long distance, but very good endurance training. It went pretty well. I went through highs and lows. It was tough around 30 kilometers, but I managed to go through that and the last climb and I finished quite nicely."
When you weren't ice racing or cross-country skiing, how did you spend your offseason?
"It was mainly time spent in the gym, out on the bike or running. Those activities were my main focus over the winter – just preparing for the new cars, which will be pretty brutal. The first simulator run I did confirmed that to me. It's going to be pretty exciting jumping in the new car and seeing how fast it can go. I also had two weeks off with the family in the Dominican Republic. We had a really good time and I recharged my batteries after some very tough winter training. Since coming back I've done my seat fit with the team, some simulator work and, of course, more training. The last few days before testing in Barcelona will be dedicated to more physical training and then we'll see where we are before we head to Melbourne."
With the expectation that this new generation car is going to be dramatically faster than the previous car, did you adjust your fitness regimen to compensate for the higher level of g-forces you're likely to encounter this year?
"Yes, quite a lot. The cars are going to be heavier, so we can afford to put on a bit of muscle. We're going to go through more g-forces, so the neck needs to be stronger and the core has to be stronger. Your whole body needs to adjust to those high speeds. The training regimen has changed quite a lot compared to the past. It's been pretty tough, but enjoyable at the same time."
What are your expectations for the test, especially now that everyone has a year of experience working together?
"I think it's going to be great. When I went for the seat fit in Italy, I saw most of the guys and the atmosphere was like last year and it was really good. Everyone was enjoying it and it was like I'd never left the guys. Going testing is always very exciting. We have a new car. Nobody will see the car in one piece until the day we head out on track, so that's pretty exciting for everyone. From the driving perspective, from what I've seen it's going to be pretty brutal and fast. Hopefully everything goes well with things like the tires so we can really push them to the limit. It's going to be a great challenge and great racing."
You're in the car for the scheduled wet-weather test on Friday, March 3, with full wets being run in the morning and intermediates being run in the afternoon. How crucial is that seat time considering there's a new car with a new tire for 2017?
"It's going to be very important. When I was told by Guenther (Steiner, team principal) that I was going to be doing the wet day, he said, 'Obviously looking at your Brazil performance we need to put you on the wets.' I was like, 'Thank you, Guenther. That's very kind of you.' On the serious side though, I think it's going to be really important to analyze and see how the wet tires are going to work. Pirelli's been doing quite a lot of work on them. They're wider, and they're going to be trickier with aquaplaning. We need to prepare for every eventuality in terms of maps and setups to be ready for wet sessions. Winter testing is not about making the setup for Barcelona in the winter, it's about the team getting as much experience and learning as much as it can. Kevin will obviously be doing dry running. I'll be doing a bit of dry, then wet. Then in the second week we'll see what setup changes do to the car and get a full portfolio of changes to be ready going into Melbourne."
You're the veteran driver at Haas F1 Team and you have a new teammate in Kevin Magnussen. Did you have much interaction with him prior to him joining Haas F1 Team, and how useful is the test in developing a rapport with him?
"Testing is going to be key for the team, and that's where we're going to share the most. On the racetrack you always want to beat your teammate. He's got the same car as you, so he's your benchmark. On the other hand, from every team I've been with so far, the data and everything has been open and that works pretty well, especially for a new team and especially with a new car. It's going to be great to have him on board. He brings good experience from McLaren and Renault that'll be very valuable. I don't know him very well for now, but I'm sure after winter testing and the first few races that won't be the case anymore and we'll get along well."
With Barcelona's mix of corners and abrasive surface, how physically demanding is the track in terms of what you have to do behind the wheel?
"It's a very demanding track because you've got some high-speed corners, like the first sector, then you've got some very low-speed sections and corners, like the last sector of the track. It's normally a good judge for the car, showing that you're capable of having some good downforce at high speed and good mechanical grip in the low-speed turns."
Describe a lap around Barcelona.
"Barcelona is probably the track you know best in the world. You can name every part of the layout. There's a long straight, then the first two corners right and left. You carry quite a good speed into them, and then there's the famous turn three, which you try to take as flat out as possible. Turn four, there's usually some front-locking. The hairpin into turn five, going down you don't see the apex until late, so it's a tricky corner. Turns seven and eight going up the hill lead to the very high-speed turn nine, which has a new curb on exit. Then you get to the hairpin at turn 10, which is very tricky under braking. Turns 11-15 are almost one corner – as a complex, it's difficult to get a good flow around those corners. You need to get a good balance there. Turn 16 is the last corner and you want to try to stay as flat-out to prepare for the straight and get a good lap time."