Toto Wolff and Niki Lauda renew contracts with Mercedes to end 2020
Toto Wolff and Niki Lauda have agreed to continue their successful partnership of recent years until the end of 2020
New contracts aligned with current FOM commercial agreement
Dr Dieter Zetsche: "This commitment gives our F1 programme important continuity"
Niki Lauda: "Some of my most enjoyable years in Formula One"
Toto Wolff: "Winning is never down to single individuals – it's about the right group"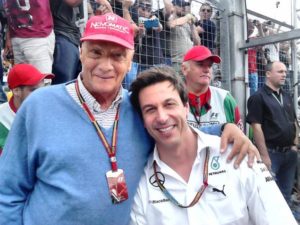 Mercedes-AMG Petronas Motorsport is delighted to announce that Toto Wolff and Niki Lauda have signed new contracts which will keep them with the World Champion team until the end of 2020.
This date aligns with the expiration of the current Commercial Agreement with Formula One Management.
Niki Lauda began working with Mercedes in late 2012. Since 2013, he has held the role of Non-Executive Chairman of the board of Mercedes-Benz Grand Prix Ltd and holds a 10% stake in the Team.
Toto Wolff joined Mercedes from Williams in February 2013. As a 30% shareholder in Mercedes-Benz Grand Prix Ltd and an Executive Director, he has worked since that time as the Team's managing partner, responsible for day-to-day operations alongside his wider responsibilities as Head of Mercedes-Benz Motorsport.
The shareholding arrangements remain unchanged, with Daimler AG retaining a 60% majority stake in the Team.
Dr Dieter Zetsche, Chairman and CEO of Daimler AG, commented:
"It's great news that Toto and Niki have extended their agreements. In 2013, we restructured the management of the Team with the clear goal of improving our performance. Since then, however, the results have exceeded our expectations. A key factor in this success has been the combination of Toto's entrepreneurial skills and Niki's experience. Their renewed commitment gives our programme important continuity for the next four years."
Niki Lauda commented:
"The last few years have been some of the most enjoyable I have had in Formula One. Toto and I formed a perfect partnership at Mercedes and we have a great team on every level that has delivered results. I must thank Dieter and the other members of the board of Daimler AG for renewing their confidence in us."
Toto Wolff concluded:
"Winning is never down to single individuals – it is about the right group of people coming together, aligning themselves with a common objective and then combining their talents to achieve that target. Each day I come to the factory, I am humbled to have the privilege of representing this inspiring group of people."