The New McLaren MCL32
Dynamic orange and black livery reflects team's glorious 50-plus-year history, and heralds new era led by Executive Committee and new senior management, featuring established world champion and exciting future star.
A stunning new colour scheme that harks back to the team's 1960s roots, a restructure in senior management, a new race driver, and a set of challenging but exciting new technical regulations all frame the genesis of McLaren-Honda's newest Formula 1 challenger, the MCL32.
The MCL32 follows in the evolutionary footsteps of its two immediate predecessors, MP4-30 and MP4-31, but it has been overhauled in every area as the design team has looked to capitalise on a series of new aerodynamic regulations introduced for 2017.
The result is an extremely elegant but aggressive-looking race car, fitted with Honda's latest-generation power unit, the RA617H, which has been thoroughly revised by the company's team of talented engineers.
MCL32
NEW COLOUR SCHEME
Most strikingly apparent is the MCL32's new colour scheme, which blends old-school McLaren history with contemporary thinking on vehicle livery design. The MCL32 has been exclusively painted by long-term partner AkzoNobel Sikkens, in Tarocco Orange, a custom McLaren colour with a pearl sparkle, and a contrasting satin black and gloss white finish.
The new colouration is a particularly crowd-pleasing touch, intended not only to revisit McLaren's past but also to kick-start a fresh chapter in the team's history.
Mohammed Bin Essa Al Khalifa, Executive Committee Principal, McLaren Technology Group, says:
"The launch of a new Formula 1 car is always a time of anticipation and expectation.
"At McLaren-Honda, we're fully focused on returning our team to the top step of the podium – a task we view as a multi-year project that requires thorough strategic planning and execution.
"Having analysed our corporate culture and structure with great care and attention, and having consequently made important improvements, we're now confident that all the building blocks are in place, and that we now have the expertise, the experience, the energy and the enthusiasm successfully to make the journey back to the front.
"We knew changes were required – and, now, with Zak [Brown], Jonathan [Neale] and Eric [Boullier], and of course our drivers Fernando [Alonso] and Stoffel [Vandoorne], backed by a superb team of men and women in both Woking [UK] and Sakura [Japan], we're fully equipped to tackle this year's exciting changes to the Formula 1 regulations, and, in addition to that, we're already liaising strategically with the new owners of our sport, Liberty Media, to improve its spectacle and success."
Mansour Ojjeh, Executive Committee Principal, McLaren Technology Group, adds:
"Over the past few months we've been working extremely hard to prepare for the new Formula 1 season – from every point of view – and the first visible output of that massive effort is a car that looks fantastic in my view.
"Its colour scheme incorporates a significant nod to our team's founder, the great Bruce McLaren, but it's deliberately not orange all over. The black stripes and white trims not only add to the overall aesthetic effect, but also reference more recent colour schemes as well as the traditional corporate colour of our much-valued power unit partner, Honda, whose engineers have been toiling night and day over the past few months.
"I've been involved in Formula 1 far too long to make precise performance predictions – more than 30 years – but I can say without fear of contradiction that we're now in a very good place: we've got the right people, with the right attitude, motivated by the right kind of collaborative ambition, and we're ready to continue to work as hard as is humanly possible to do what it takes to succeed.
"I'm proud of them all."
NEW SENIOR MANAGEMENT
While much may have changed on the surface, the core McLaren philosophy of ultra-hi-tech and attention to detail remains undiminished, and the new partnership of Executive Director Zak Brown and Chief Operating Officer Jonathan Neale has underlined and galvanised that ambition, supported very capably by Racing Director Eric Boullier.
Together, led and inspired by the Executive Committee, they have ushered in a wind of positive change to the McLaren Technology Centre, inspiring and empowering the workforce with their passion for the brand and their determination eventually to return McLaren to the top step of the podium.
Zak Brown says:
"McLaren has always been the team in Formula 1 for me, and I'm massively motivated to be able to help re-establish the team where I firmly believe it belongs: at the very pinnacle of Formula 1.
"Assisting us reach that goal will be a fantastic group of partners that have supported us throughout the years, ranging from long-term collaborations with SAP and Johnnie Walker, through to our newest partnerships with Castrol and Stratasys, both of which have been announced this year. I want to say on behalf of the entire McLaren-Honda team: a massive thank you to all our partners for all your amazing enthusiasm and support.
"Indeed, I'm hugely encouraged by the amount of attention this year's McLaren-Honda launch has garnered, and by the number of our partners in attendance – not only at the McLaren Thought Leadership Centre in Woking [UK], but also at our concurrent event in Tokyo [Japan], which is taking place at a Hilton hotel; Hilton is one of our partners, of course.
"To everyone who has given us their support, today is the perfect opportunity to raise a glass of Chandon, which is another one of our partners, to celebrate the launch of our new car."
Jonathan Neale adds:
"It has been a challenging winter for us as a leadership team, but there's a great sense of purpose and enthusiasm throughout the business this year, and that applies not only to the McLaren Technology Group but also to our power unit partner Honda. Together, we've assembled a formidably capable team, but we still have work to do in order to fulfil our true potential. Together with our staff, the Board of Directors, and with the guidance and support of our Executive Committee Principals, we're working extremely hard as we continue to put the essential elements of future success in place.
"The journey ahead isn't going to be easy, and I've emphasised that to everyone. We've made progress in the past 12 months, but we're not where we need to be and we expect on-track competition to be fierce. To win in Formula 1 requires any competitor to be good at everything. Thoughtful but relentless pursuit of excellence is required.
"So, do I believe we'll be back at the front this year? Realistically, probably not quite yet, no. But do I think we'll continue to make meaningful improvement as a team? Absolutely. And that's our aim: to make progress by establishing the proper and correct, if sometimes difficult, changes that are needed to go forward.
"We can't predict where that will leave us – particularly on the eve of a new season of regulatory upheaval and uncertainty – but as a team we have many talented and driven individuals and we're restless about continuing to do whatever is needed to make us competitive."
For Racing Director Eric Boullier, the ambition is clear:
"Within McLaren-Honda, there's a tangible feeling of progress, of change. This year's rules reset is a valuable opportunity for us – it will allow us to make progress with what we feel is a well ordered and clearly defined chassis-engine package, and hopefully to narrow the delta between us and the front-running teams.
"The addition of a striking orange and black paint job reinforces the notion that we're moving away from what immediately preceded it, but it's the engineering detail on the MCL32 that really impresses me. It's the result of a huge amount of work from a team that has really developed together over the past few years. The chassis is incredibly well realised, the power unit has been significantly developed and, in Fernando and Stoffel, we have a hugely exciting driver pairing that's already blending really well.
"There's a feeling around the factory that we're about to turn the corner. Our relationship with Honda has blossomed – there's a real sense of comradeship to what we do now – and I think we're all very excited about what we can achieve together this year.
"Technically, in 2017 man and machine will be pushed to the absolute limit, owing to higher speeds and more severe braking. All our partners and suppliers have done a great job, but I want to mention Akebono, one of our team's long-standing technology partners, who have developed all-new brake callipers and brake systems to cope with the increased loads and forces that will face Fernando, Stoffel and the MCL32."
Stoffel Vandoorne says:
"It's really nice to see a McLaren looking like a proper McLaren. The livery is a great mix of the past and the future: the orange of the 1960s and '70s, but pushed forwards. I really like it. As for the car itself, it looks great. There are so many beautiful little details – the gills on the nose hangers, the bargeboards, the front wing – it all looks incredibly well finished and thoroughly thought-out.
"This is the moment I've been waiting for my whole life. My preparation has been long, intense and meticulous. I've spent the winter training ferociously hard, I'm fitter now than I've ever been, and I'm raring to get going. This is my opportunity. And I'm ready."
For Fernando Alonso, there is little left to prove in a glittering career, but that does nothing to halt the competitive spirit:
"I think there's a lot to admire about what we've achieved over the past 12 months. Sure, the results haven't really showcased it, but we've really made progress, and I think the whole team has gelled together through those difficult times. Now, at a moment of significant regulatory change, we need to capitalise on that period of uncertainty to push forwards – and I'm confident that we've got the expertise to do just that.
"What I've seen of the MCL32 appears to be really promising – the new regulations seem to be well thought-out, and the cars look fast and aggressive. The look of the car makes me really want to get in the cockpit – I've lost none of that all-important hunger every Formula 1 driver needs. Training over the winter has gone well – I worked really hard – and I can't wait to get going in the car as I say.
"We still think the start of the season will be a challenge – we can't ignore the fact that we're still coming from a significant step behind the current front-runners – but I'd like to think we can target the second half of the year as a time when we'll really be able to start making useful performance steps. The aim is to look respectable this year – and I'd like to think we can achieve that."
Yusuke Hasegawa, Honda's Head of F1 Project & Executive Chief Engineer, sums up as follows:
"Based on our two years of acquired experience and constant progress, Honda has made big changes to the concept and layout of our 2017 power unit, the RA617H.
"The main areas of change that we focused on has been to decrease the weight and lower the centre of gravity, so as to improve the balance of the car, while generating more output from the ICE [internal combustion engine].
"Also, owing to the new 2017 regulations fundamentally affecting the design of our new car, Honda has made a lot of changes to accommodate the updated chassis. The team has therefore continued their hard work throughout the winter to find an ideal balance. "The pre-season test in Barcelona will be very important for us, so as to learn the functionality of the car as a whole.
"Our relationship with McLaren will continue to strengthen as we further progress technically and operationally this year, to achieve our ultimate goal."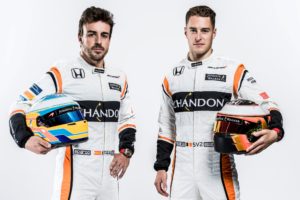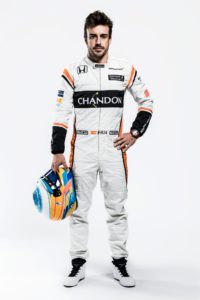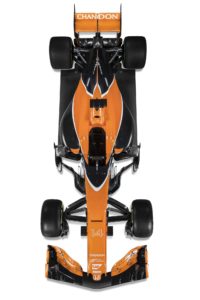 Technical Details:
CHASSIS
Monocoque Carbon-fibre composite, incorporating driver controls and fuel cell
Safety structures Cockpit survival cell incorporating impact resistant construction and anti-penetration panels, front impact structure, prescribed side impact structures, integrated rear impact structure, front and rear roll structures
Bodywork Carbon-fibre composite, including engine cover, sidepods, floor, nose, front wing and rear wing with driver-operated drag reduction system
Front suspension Carbon-fibre wishbone and pushrod suspension elements operating inboard torsion bar and damper system
Rear suspension Carbon-fibre wishbone and pullrod suspension elements operating inboard torsion bar and damper system
Weight Overall vehicle weight 728kg (including driver, excluding fuel)
Weight distribution between 45.3% and 46.3%
Electronics McLaren Applied Technologies. Including chassis control, power unit control, data acquisition, sensors, data analysis and telemetry
Instruments McLaren Applied Technologies dashboard
Greases & Fluids Castrol grease and hydraulic oil
Brake system Akebono brake calipers and master cylinders
Akebono 'brake by wire' rear brake control system
Carbon discs and pads
Steering Power-assisted rack and pinion
Tyres Pirelli P Zero
Race wheels Enkei
Garage Radio Kenwood
Paint AkzoNobel Car Refinishes system using Sikkens products
Cooling Systems Calsonic Kansei water and oil cooling
POWER UNIT
Type HONDA RA617H
Minimum weight 145 kg
Primary PU components Internal Combustion Engine (ICE)
Motor Generator Unit – Kinetic (MGU-K)
Motor Generator Unit – Heat (MGU-H)
Energy Store (ES)
Turbocharger
Control Electronics
INTERNAL COMBUSTION ENGINE
Capacity 1.6 litres
Cylinders Six
Bank angle 90 degree vee angle
No of valves 24
Max speed 15,000 rpm
Max fuel flow rate 100 kg/hour (above 10,500 rpm)
Fuel consumption 105 kg 'lights to flag' regulated fuel capacity limit
Fuel injection Direct injection, single injector per cylinder, 500 bar max
Pressure charging Single-stage compressor and exhaust turbine, common shaft
Fuel & Lubricant BP Castrol
ENERGY RECOVERY SYSTEM
Architecture Integrated Hybrid energy recovery via Motor Generator Units
Crankshaft coupled electrical MGU-K
Turbocharger coupled electrical MGU-H
Energy Store Lithium-Ion battery, between 20 and 25 kg
Maximum energy storage, 4 MJ per lap
MGU-K Maximum speed, 50,000 rpm
Maximum power, 120 kW
Maximum energy recovery, 2 MJ per lap
Maximum energy deployment, 4 MJ per lap
MGU-H Maximum speed 125,000 rpm
Maximum power, unlimited
Maximum energy recovery, unlimited
Maximum energy deployment, unlimited
TRANSMISSION
Gearbox Carbon-fibre composite main case, longitudinally mounted
Gear ratios Eight forward and one reverse
Gear selection Electro-hydraulically operated seamless shift
Differential Epicyclic differential withmulti-platelimited slipclutch
Clutch Electro-hydraulically operated, carbon multi-plate
Lubricant Castrol