The Thoughts Of Toto Wolff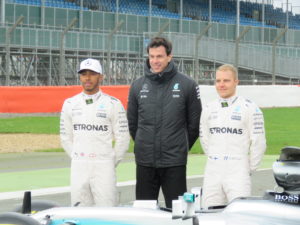 Today at the launch of the W08 we managed to have a chat with Toto Wolff. His opinion is quite interesting as always. It's clear the he believes that despite winning 50+ races over the last 3 years, winning in F1 is still an exceptional thing, something to aspire to, and certainly not to be taken for granted. As such the team have approached the new season with a clean sheet of paper knowing that they have to start again to climb to the top as everyone starts from zero.
A lot of changes have happened here too, With Nico Rosberg's shock retirement and Paddy Lowe's departure, its a completely new era and it has caused a lot of disruption. Toto however feels that disruption in any business can be a good thing, it breeds opportunity and a chance to take stock, pick yourself up and go for it with renewed vigour.
Regarding Valterri's appointment as a driver of the famous silver arrows Toto said that they had a lot of contact, and made a decision based on Valterri's Speed, Intelligence, Development Abilities and Personality. Clearly the way he 'fits in' is absolutely key to getting the best out of the team scoring as many points as possible.
Toto refused to talk much about the departure of Paddy Lowe, however it looked like it might still sting a little. He said that he has had contract with James Allison for a long time so no snap decision was made regarding bringing him in, and indeed there was no dispute over wether they should (internally). But Toto wouldn't say if decisions regarding Allison were made pre or post Lowe's departure.
The famous rules of engagement between drivers was brought up and Toto was asked if this will continue, he stated that 'Abu Dhabi proved it [the rules] clearly had holes in as they didn't cover that eventuality however they will continue and will be tweaked with the holes being filled in, although they may not be as complex with the new driver line-up.' Of course it also depends whatever other teams do, as if Mercedes find them selves mid-pack, clearly working together to develop is going to be key.